golden_lily
It's another episode of the Zanders! Up, mostly, when I said it would be. Whee!
Warnings are the same as last time: swearing, fat, tighty-whities, but nothing NSFW.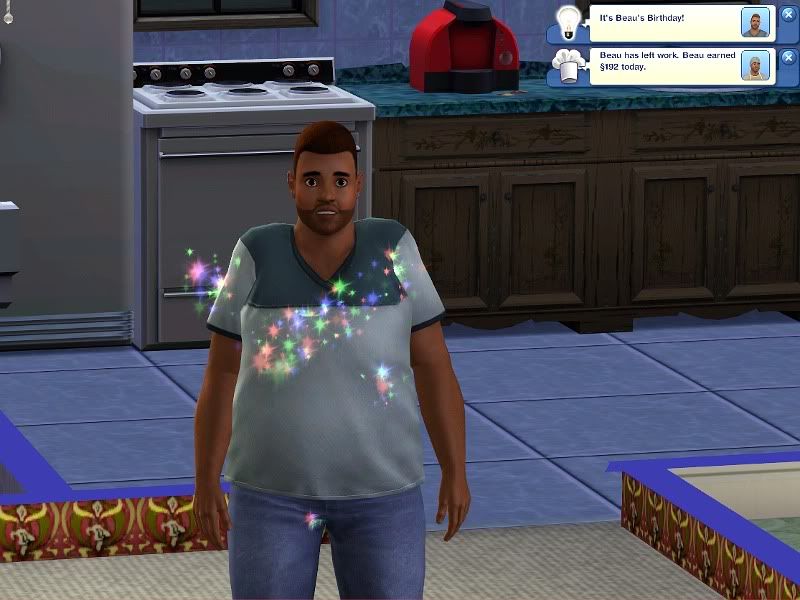 As I'm sure you recall, we left off with Beau aging up to an elder.
Oh no, no, no. No one in my legacies wears overalls.
Aw, he looks like your favorite grandpa. <3
WHY HAVEN'T I CHANGED THAT COUCH/WALLPAPER?! WHY?!
Beau shares a birthday with baby Ben.
Why do we put babies outside to age up? Is that really a smart idea?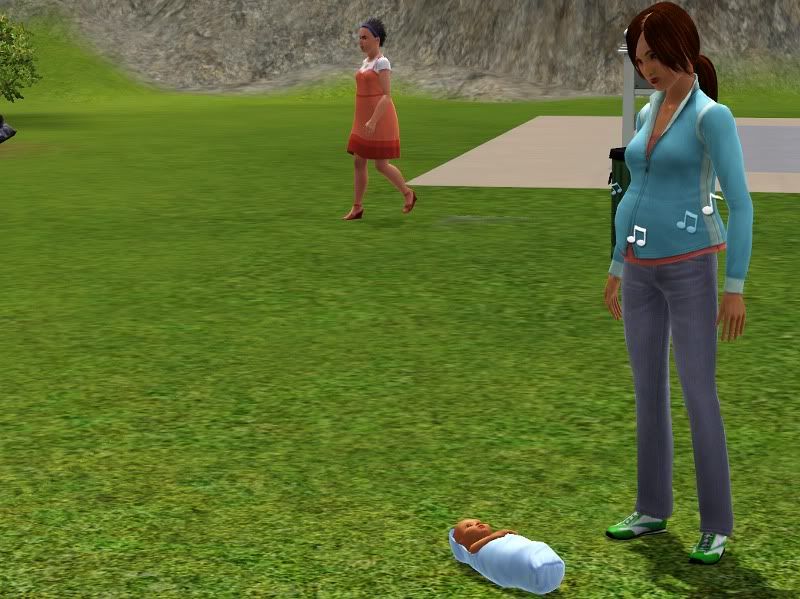 Yes, infants on the grass! Great plan!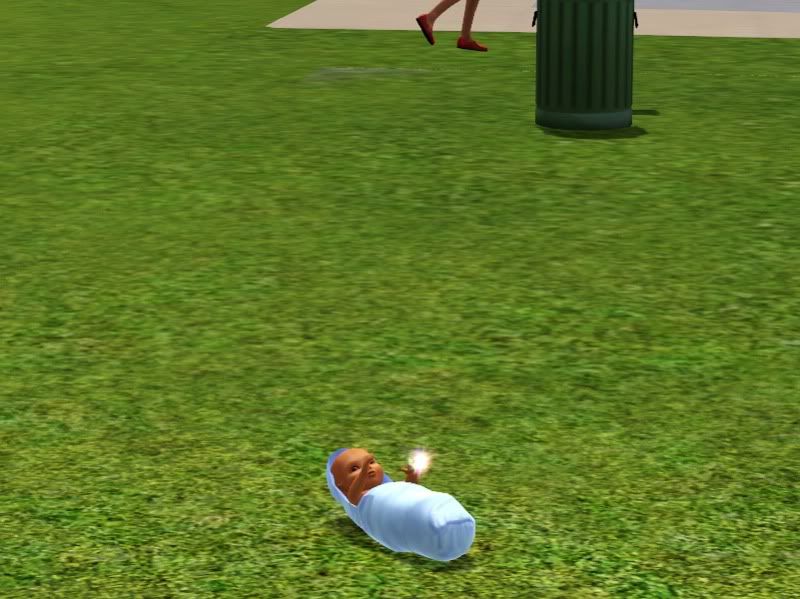 You remind me of the babe.
(What babe?)
The babe with the power.
(What power?)
The power of voo-doo.
(Who do?)
You do.
(Do what?)
Remind me of the babe.
Cute toddler, hope he doesn't crawl into the lake.
Aaaand now it's time for a birth!
Meet Brandy Zander. Born virtuoso and light sleeper. Dark skin, brown hair, brown eyes.
Aaaand Angie immediately went to age up. Did you know Sims can't age when they're pregnant? So now Beau is like 30 days older than her.
Start?!
Toddler training!
Speaking of Ben, I didn't post his stats. Brave and loner with pink as a favorite color. You can say violet all you like, EA, on my screen that is pink.
And Brandy's favorite color is white/seafoam green.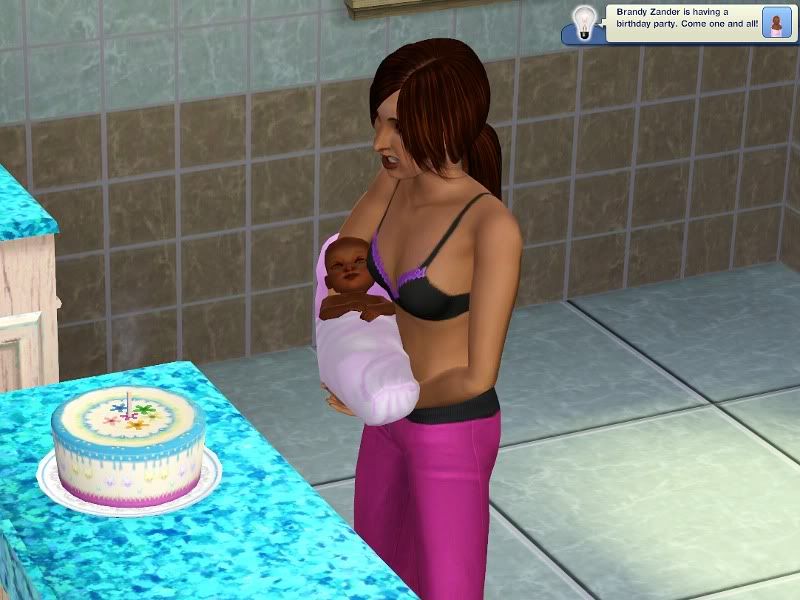 Infants are boring. BIRTHDAY! (Also, awwwwwwwwww! Cute sleepy baby!)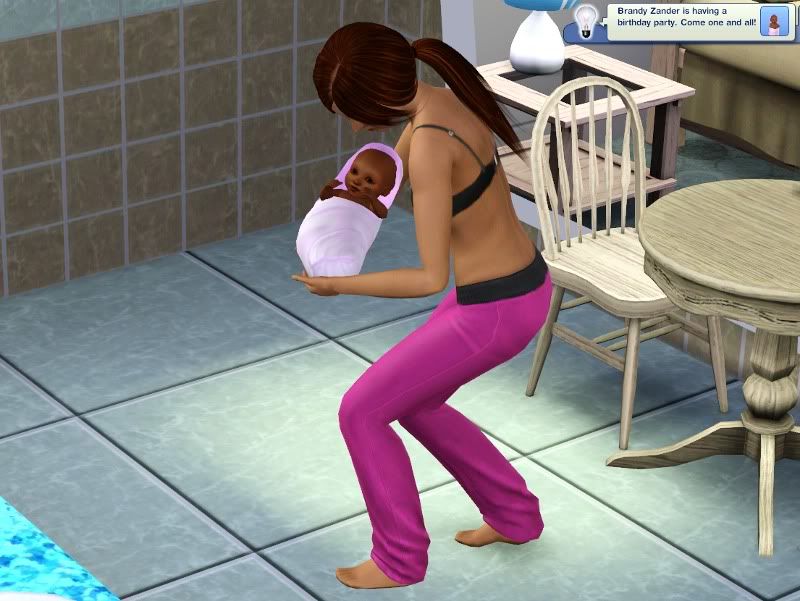 At least she's not outside? Seriously, what happened to infant goes up, toddler comes down?
I hope that floor has been mopped.
It's alive! It's ALIVE!
Hair. No.
Really? You're all done here, Mr.Babysitter? You're sure you're not FORGETTING SOMETHING?
He caught a cake. A cake. Right.
That's quite an exuberant face, Ben.
Ah, ha, ha, ha, stayin' alive, stayin' alive. Ah, ha, ha, ha, stayin' aliiiiiiiive.
I didn't know we had genies in this game yet!
Do any of my sims wear things besides tighty-whities?
But he cleans up pretty cute. Kind of kooky eyes, though.
Angie finally got enough painting points to finish her portrait.
Birthday!
Birthday!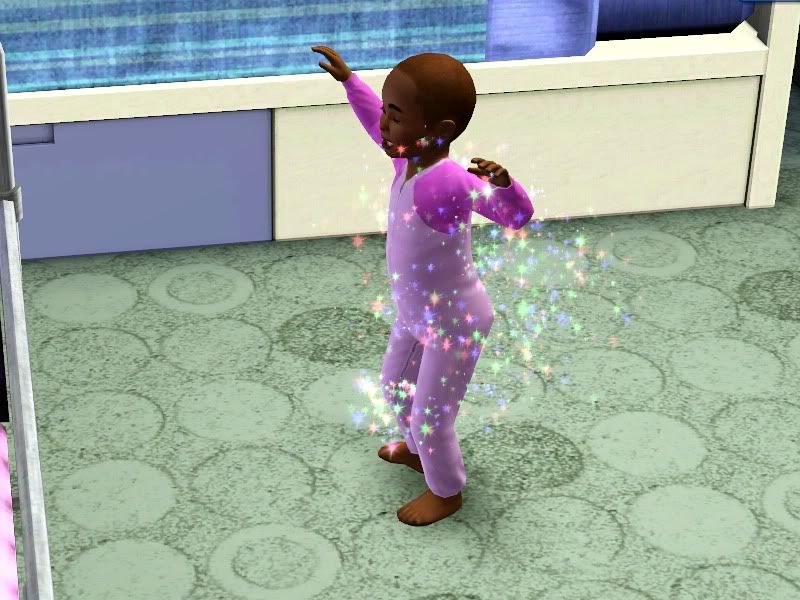 Birthday!
TIGHTY-WHITIES!
And post-makeover. Her eyes freak me out a lot less than her brother's.
What? Angie needs more friends to go up a SKILL point? Oh that's crap.
Another birthday! (Sorry, this was still during my "don't take enough pictures" phase.)
Ben: "I want to be a real boy!"
Excellent. That is a handsome young man. And Brandy, so kind of you to join us!
Brandy: "Whee, birthdays! Yay!"
Yeah, we're done honey.
Makeover. He rolled good this and family oriented last age up, so I gave him a little bit of a nerd edge.
Brandy vs. the sandwich. Watch for it on PPV.
Beau still fishes. Constantly.
Angie's working on those friends for her next charisma point. The maid wasn't overly responsive.
Let's not beat around the bush. I'm madly in love with Beau and if he wasn't a character of my own creation, we'd run off together. So he's working on painting points for the next gen's portraits.
Angie needs donations for work, and she wanted to throw a party, so fundraiser it is!
Nick Alto stopped by. He aged up WEIRD.
Overall, a pretty successful fundraiser.
It was successful enough that Angie bought the fast learner trait. :D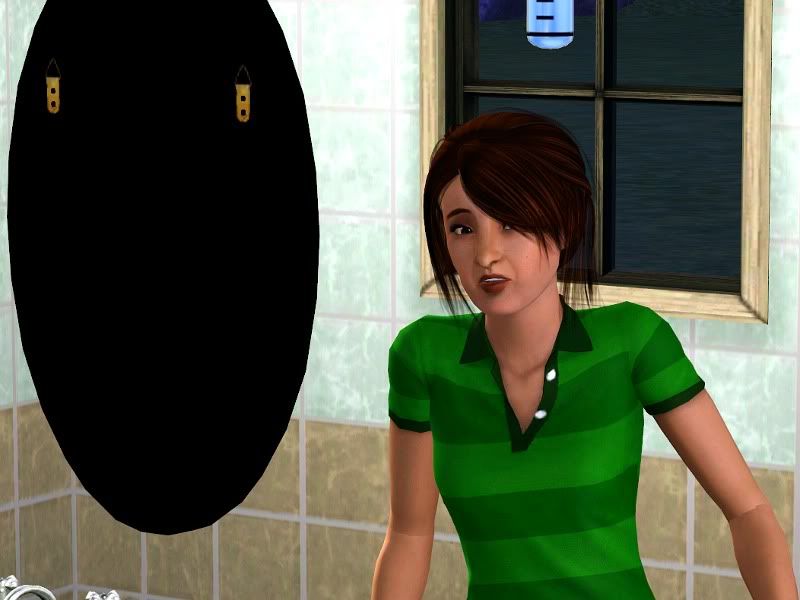 She immediately puts it to the test by making cute faces in the mirror.
We can do homework at tables?! Without crazy prompting? Amazing.
Ben rolled an opportunity to bring in a fish.
And immediately, all of his wants revolved around fish!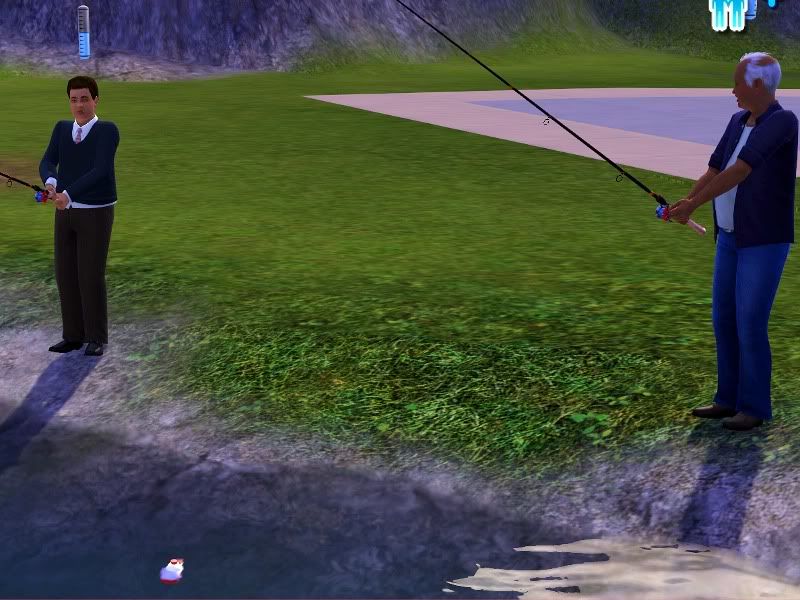 So he's taken to fishing with his dad after school. It's quite cute.
Speaking of Beau and fishing, no longer content with our pond he has moved onto...
other
people's ponds!
Children on large, dangerous cliffs! Oh yes, safe plan.
Beau: "Ah, so quiet, so peaceful."
Ben: "So dad, did you know there isn't just one type of minnow, but several "true" minnows, mainly being the smaller fish in the subfamily Leuciscinae? But, it's also an unspecific term for tiny freshwater and saltwater fish, especially those used as fishing bait? And of course there's the SS Minnow, the wrecked boat featured in the television series Gilligan's Island."
Beau: "Mustn't. Kill. Child."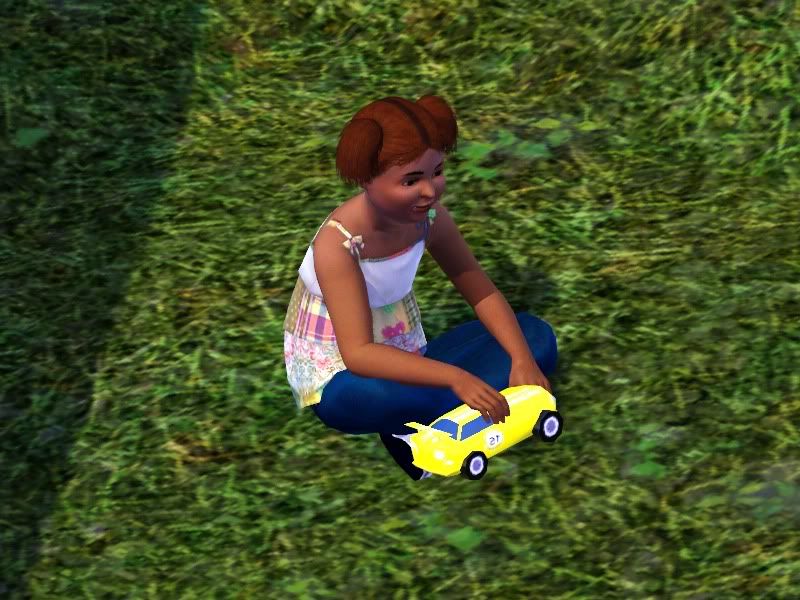 Not enough Brandy. She really likes that car.
Time to be a teen!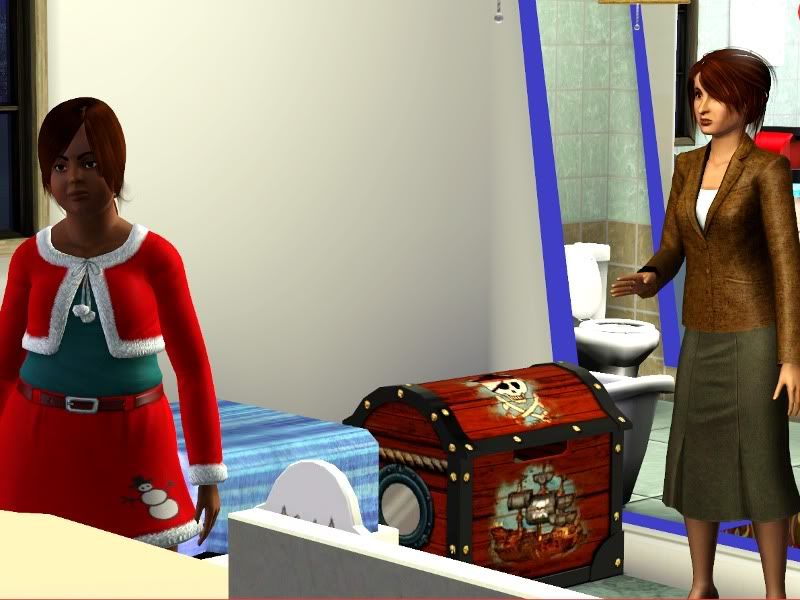 That's a...wonderful outfit that I absolutely thought I'd deleted.
Grumpy last time, family oriented like Ben this.
Eesh, you can see the grumpy.
Brandy: "What does it matter? You've already picked an heir."
Still, the makeover is nice.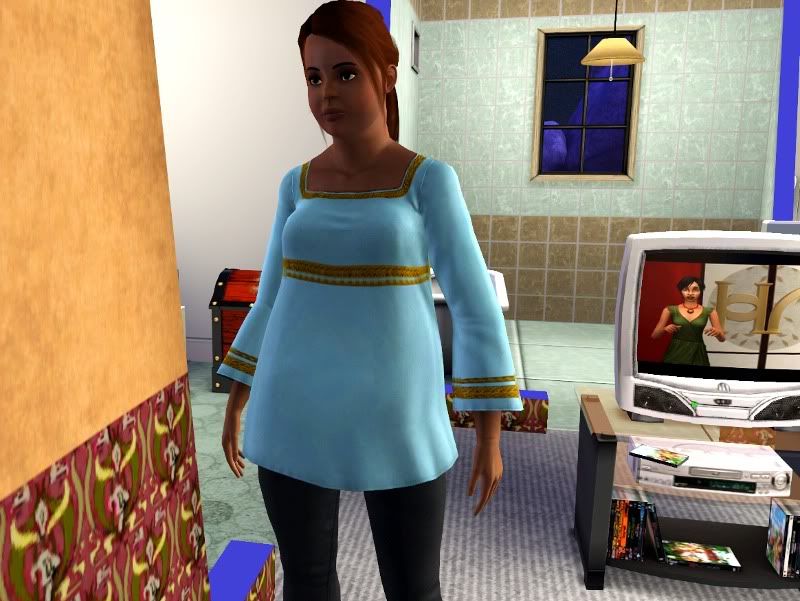 I like her outfit, too. (Fat rant: Why do so many of the EA made clothes look like crap on heavy sims? Brandy's not even really heavy! And user made clothes? I'm looking at you Liana. Almost universally shit on anyone not a size 2. Don't even get me started on how many hairs clipped her cheeks.)
Angie needed to meet Blair, the "police chief" for work. By the time she got off work and over to the house, it was too late to go in. So she decided to stand outside and serenade them instead.
Beau wants to catch every fish. He's done OK on fresh water, but we've never been to ocean before. See, the beach.
Angie's doing quite well at work.
Angie: "Maybe I
will
be leader of the free world!"
I'm still not holding my breath.
Teenagers. Painting and doing their homework. Maybe they're sick?
Yay, maxed fishing! Go Beau.
That also gave enough Lifetime Points for Bookshop Bargainer and Haggler. I know who'll be doing the shopping from now on.
Looks like Angie threw another fund raiser. Poor Ben trying to do his homework.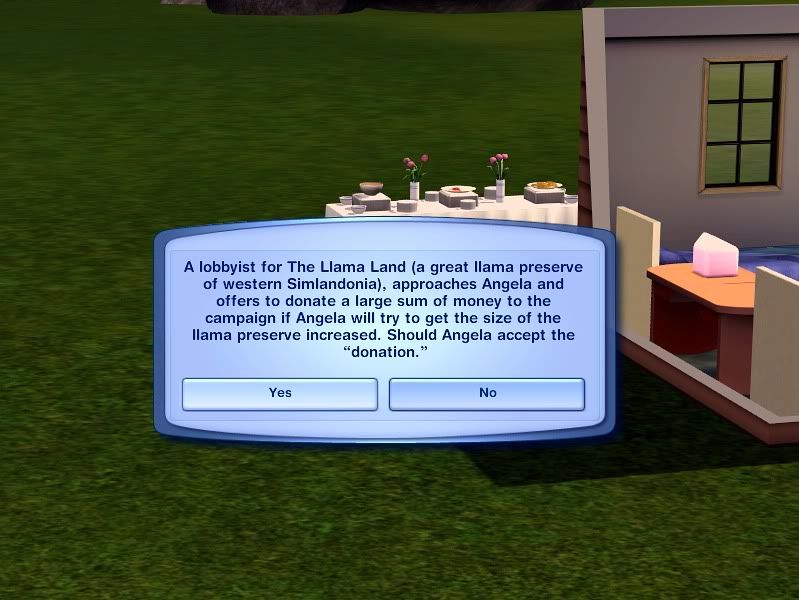 Um, Llamas are good, right? Let's say yes.
You know TS3, I love all the new opportunities. They're cool. But we could dial them back, just a smidge.
Angie finally remembered to go visit Blair, who turned out to be a teen and a crossing guard, or something. Police chief, my ass.
We can roll LTWs now? Awesome. Let's go for it, he's got several painting points already.
And he immediately rolled the want to write a SciFi novel.
Also, oh yeah. That do it for you, baby?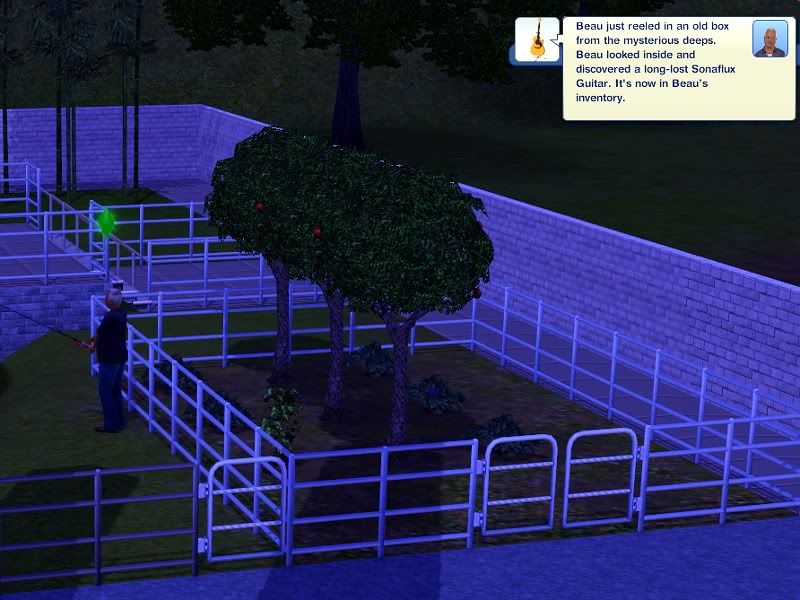 Oh a guitar! Because between Angie and Brandy, we don't already have two of those.
He's only missing the Deathfish now.
Aw, her mayor outfit is so cute! She's doing really well.
And it's time for a birthday!
Angie: "I'm so excited! AND STARVING!"
Angie: "Did I ever mention I'm terrified of sparkles?"
Angie: "Oy, my achin' back."
Angie: "Oh, but I'm adorable! Yay!"
Cute old lady outfit, and a naked Beau.
Close-up. <3
One half of the LTW down, one half to go! (I think she's at a 7 on the guitar.)
Beau, why so grumpy?
Are you...are you floating?
Nononononononononono!
Beau! :(
Death: BEAU ZANDER? IT'S TIME.
Beau: "I was told there would be hula girls?"
Death: I TOLD THEM THEY WOULD NOTICE!
Death: THERE WERE BUDGET CUTS. DESPITE THAT, IT IS TIME.
Beau: "What about a mai tai? No? OK."
:( Bye bye, Beau.
Newspaper?
Oh heck no, put that away. You have work to do far away from my family.
Oh Angie, I'm sorry.
But she didn't exactly
witness
death, EA.
Aw, BEAU! :(
ANGIE! Oh this is just too sad.
The next day, Angie threw another fundraiser and the maid
mocked
her for her grief. Where's the smite button when you need it?
Ben's still trying to become a famous author.
Angie's still working on her guitar.
And we'll end this update with Ben's birthday to adult and the official naming of him as the heir.
Sparkles.
SUPER SPARKLES GO!
Aw, his last trait, in honor of his dad, is Angler. :(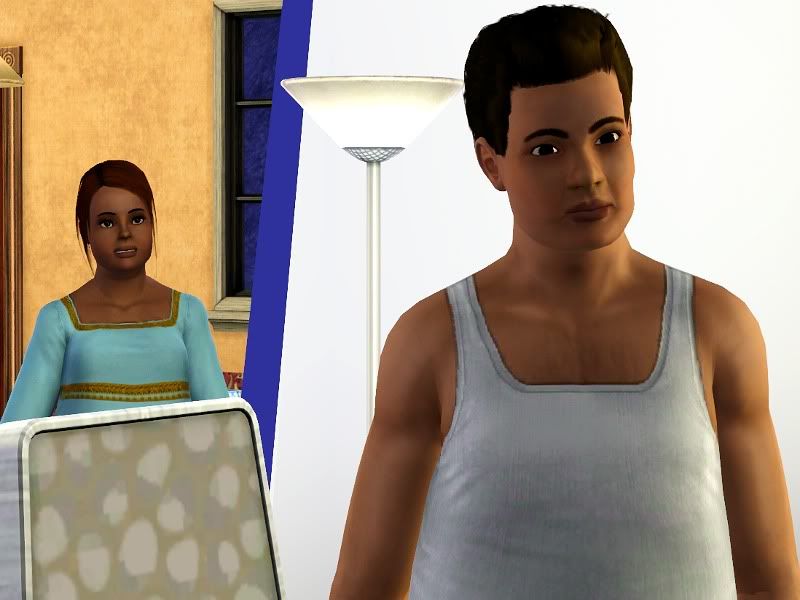 Thank you for joining us, Brandy!
Meet your gen 2 heir, Ben Zander! Brave, loner, family oriented, good, angler. LTW: Illustrious Author (Max writing and painting). Favorites: Kids, Tri-tip Steak, Violet. All around good guy.
Stay tuned next time for weddings, births, and all that other legacy stuff.