golden_lily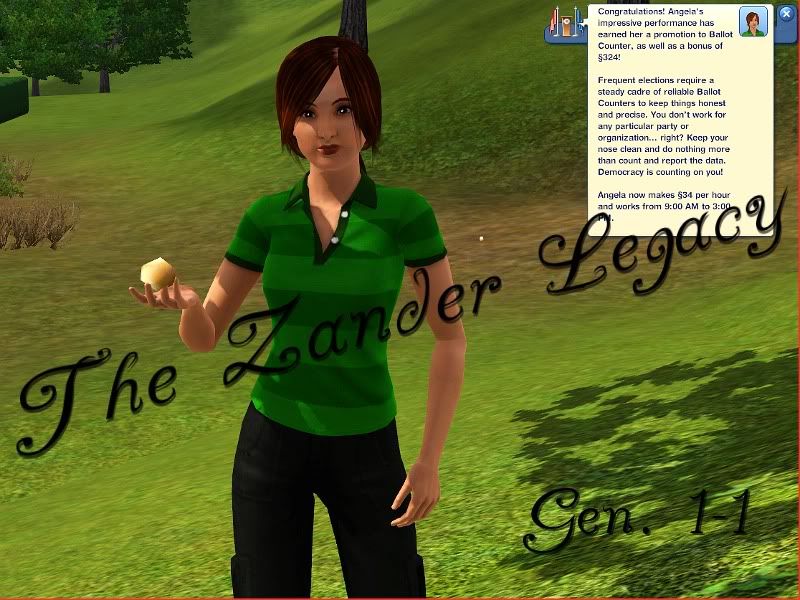 Warnings: I cheat. I swear. I have fat sims. BUT, I don't have a censor hack, so there's nothing more NSFW than a man in tighty-whities. Only 50 pictures under the cut.
This update will be pretty sparse, because I somehow managed to not take a lot of pictures. I'm not sure why, except that this was the third legacy that I'd started in two days and I thought I had all my pictures of skilling and infants already. It'll be better in 1-2, scouts' honor.
Meet Angela Zander. Young adult, brunette, brown eyes. She's childish, a shmoozer, a green thumb, a mooch, and has a good sense of humor. LTW: Golden Tongue, Golden Fingers or max Charisma and Guitar. Shouldn't be too difficult.
Favorites are key lime pie, Latin music, and kelly green. And having hair that looks great in CAS but is terribly gappy in game. Whee.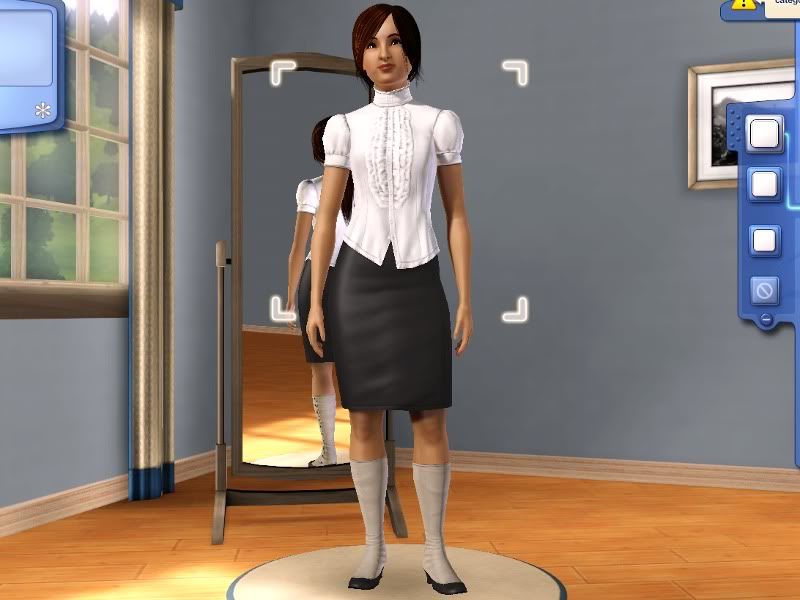 Formal wear! This picture was to show off her boots? I want to say yes. Best thing in the store, hands down.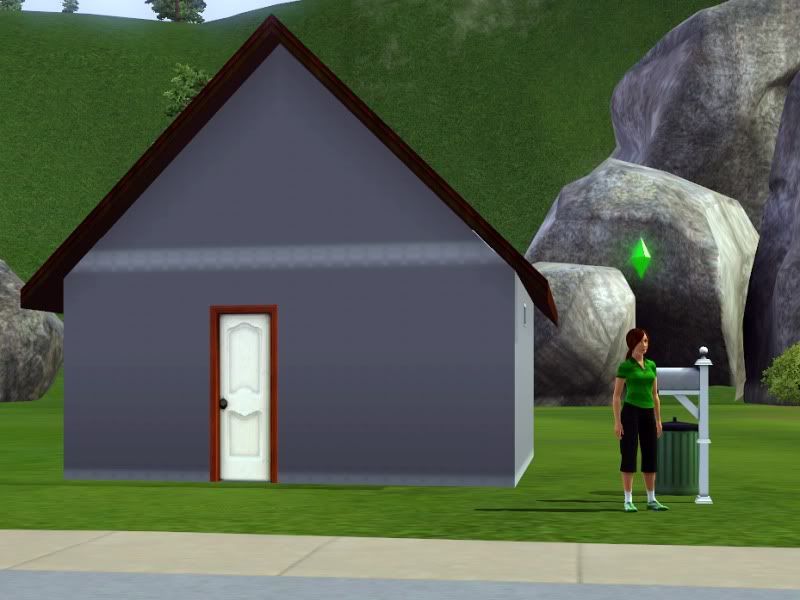 And here's the legacy shack. Unless this is your first rodeo, it's obviously a bit nicer than most. I'm sorry, you had $4800 to spend in TS2 and only $1300 in TS3. Whoever thought of that was a cock. So smaller lot + family funds = yes.
Inside, is just the essentials, plus a guitar and mirror to get started on that LTW and an easel to get started on the founder portrait.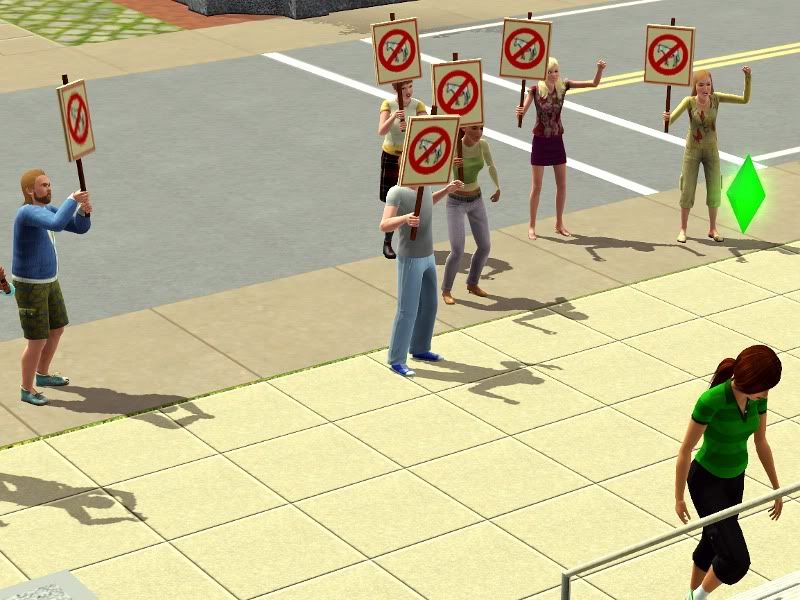 Angela wanted a job in politics, so off to the town hall we went. Protesters! Who appear to be protesting unicorns? Nice detail.
Angela: "I'm going to be leader of the free world!"
I so very doubt that, darlin'. Does anyone else find it harder to get promoted in this game?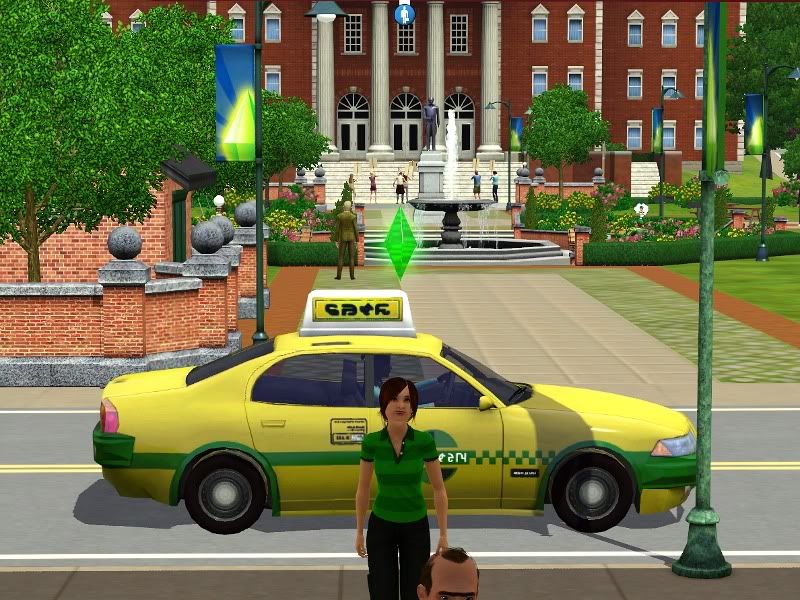 So Angie wanted to take a music lesson. OK, we only have like $550 left, but it wouldn't kill to get a head start on that field.
Then she TOOK A CAB TO THE THEATER! The town hall is still within view! Stupid lazy sim. :P
After the lesson, be vewy vewy qwiet. We're hunting husbands.
This is Beau.
This one was...a wax statue?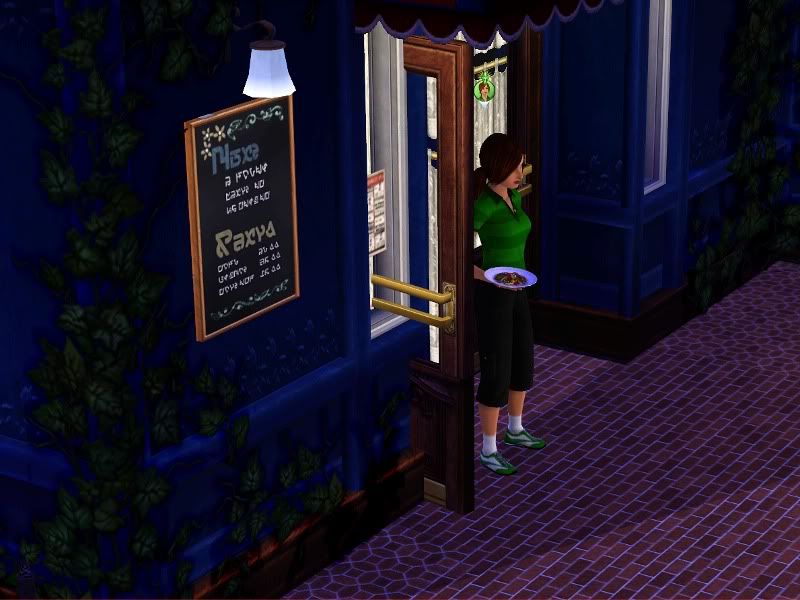 I spotted a cutie at the bistro, so I directed Angie to him. She had her own plans.
Then she decided to change into her formalwear before telling him about her dinner. Angie, you are an odd duck.
I <3 you.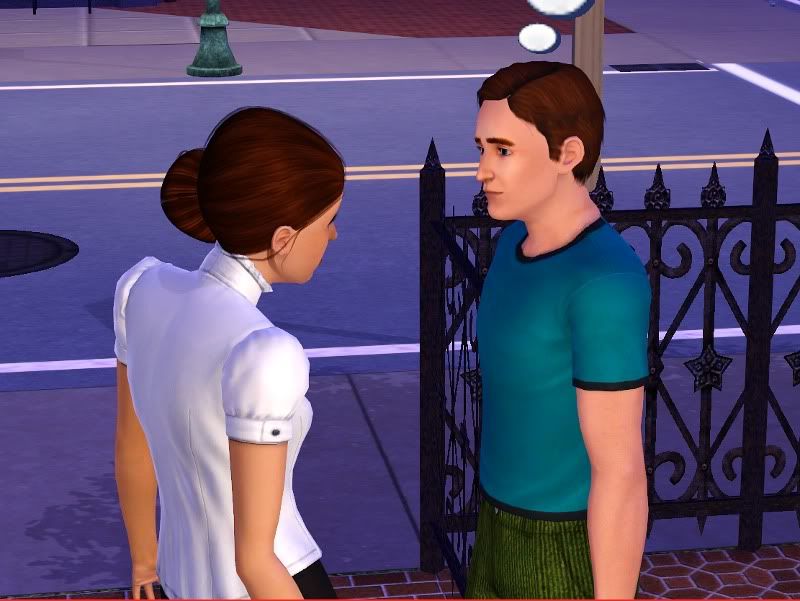 Ben doesn't seem overly interested, however.
I'm sure this is old news to other players, but I hadn't encountered Mr. Sw0rd yet. I laughed a little too much.
Back home, Angie put her new lessons to the test.
Angie: ♪♪
I am Ir-on man! Nah nah nah n
ah na nah nah. nah. nah.
♪♪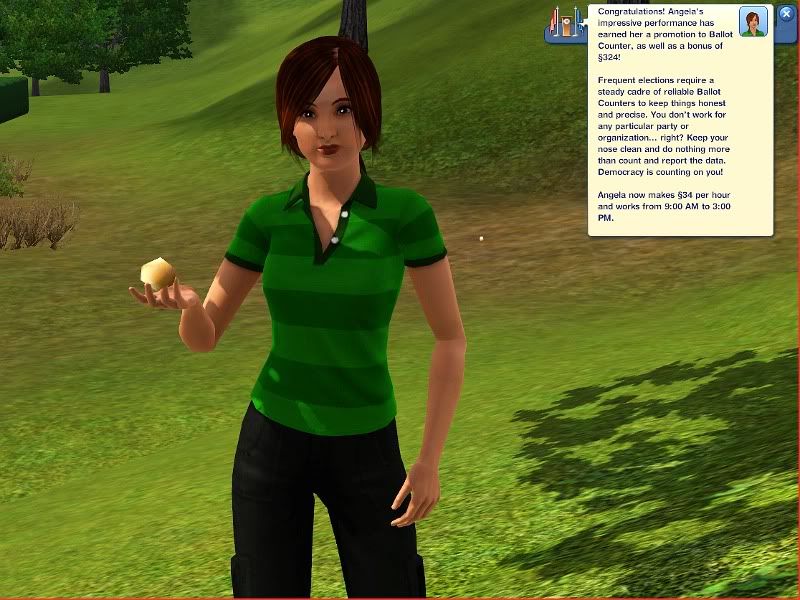 Next morning, she got her first promotion. And she found a seed behind town hall. :D
And that night she got her first burglar. Damn it.
Luckily I'd had the forethought to install an alarm.
Burglar:
*If I keep calm, maybe he won't notice me*
Officer:
*Hey, where'd he go?*
Angie: "Someone turn off that alarm! I'm trying to sleep!"
Of the three options, Angie and Beau hit it off best.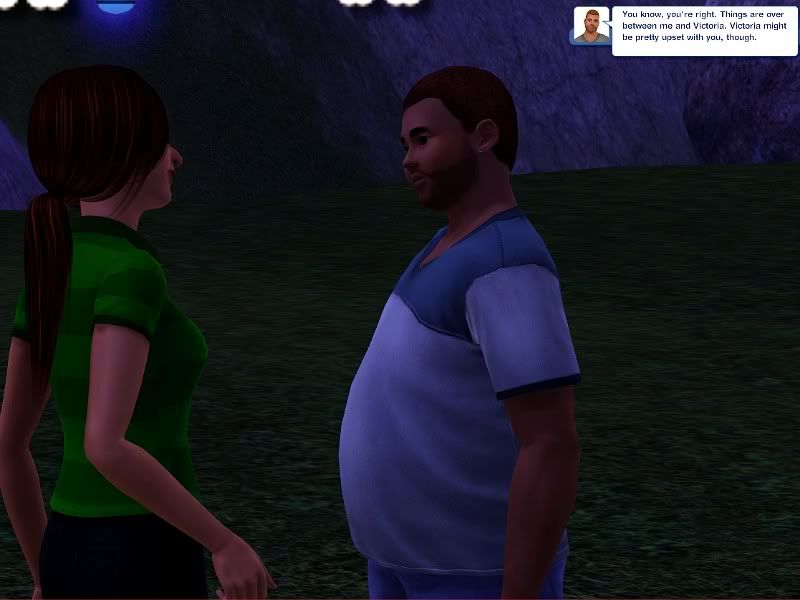 Unfortunately he was seeing someone, but
fortunately
Angie took care of that.
Ah the first boinking of a legacy. It's a right of passage.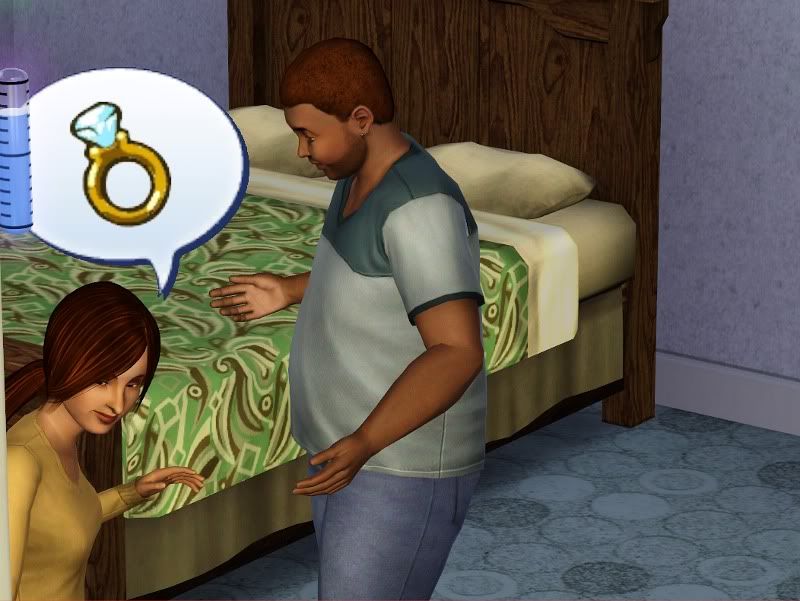 A post-coital proposal! How unexpected.
Angie: "Beau, I know you only just got out of a relationship, but will you do me the honor of letting me be your permanent rebound?"
Beau: "Oh my gosh, oh my gosh, oh my gosh!"
Beau: "Yes! Oh yes!"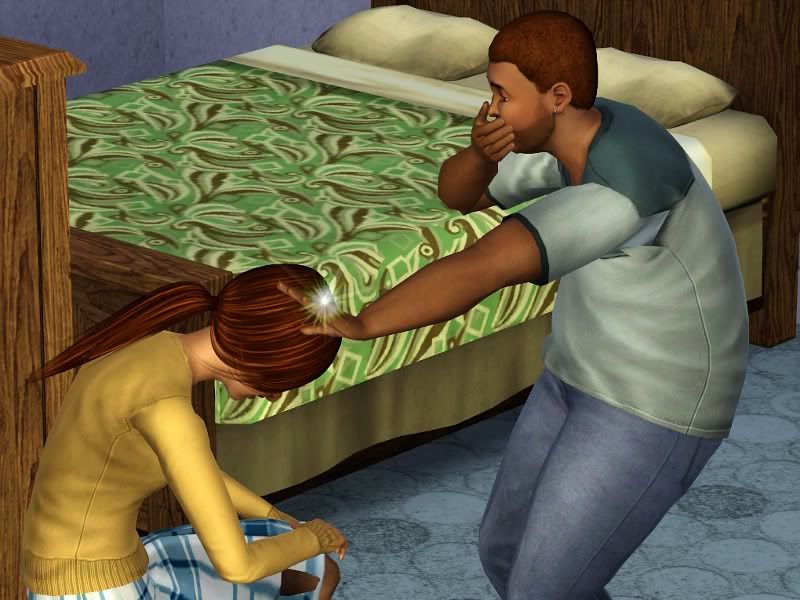 Beau: "I'm so excited, I'm going to throw up!"
Angie: "Hugs?"
Beau: "Oooooh, so sparkley!"
It's beautiful. *tear*
The next day seemed like a good day for a wedding, so we bought a buffet table and invited over some neighbors.
Angie: "Oh my God, what is Beau doing here?!"
Um, marrying you?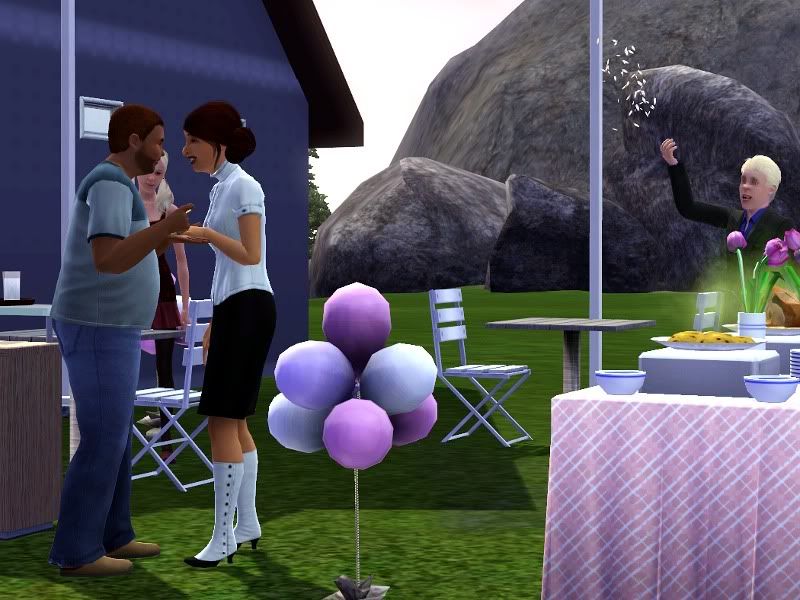 BOOTS!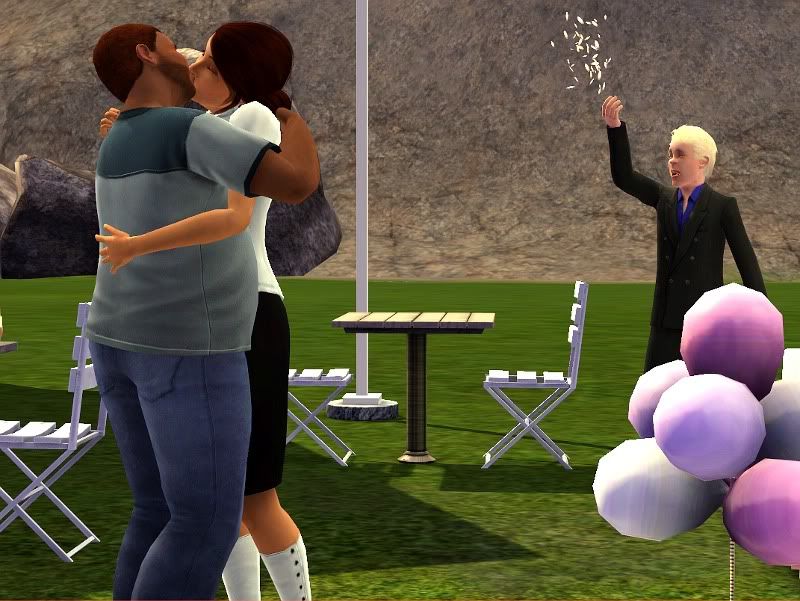 Random blond guy: "It's so beautiful!" *sniff*
Oh Jesus tapdancing Christ, you stole him away from his
baby
, Angie? Oh you are going to hell.
Oh man, she was JUST born, too. Hell, hell, hell, hell, hell.
Still, what's done can't be undone. Let's meet Beau Zander
né
Andrews.
He also has a good sense of humor, as well as being a slob, couch potato and inappropriate. That explains the lack of formal wear. And, he can't stand art.
Favorites are electronica, cookies, and yellow.
Unemployed, but has three cooking points.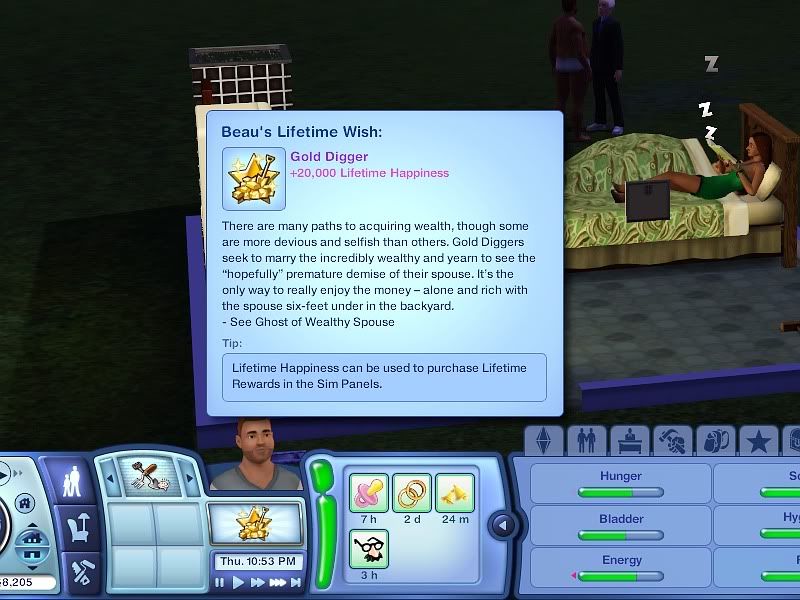 LTW: So never going to happen. Not only is Beau
waaaaaaay
older, (see last picture,) not only is Angie not rich, but I'll drown him before I see that happen. :)
*is spiteful*
Upgraded shack.
And from the inside. But what's this empty room on the end?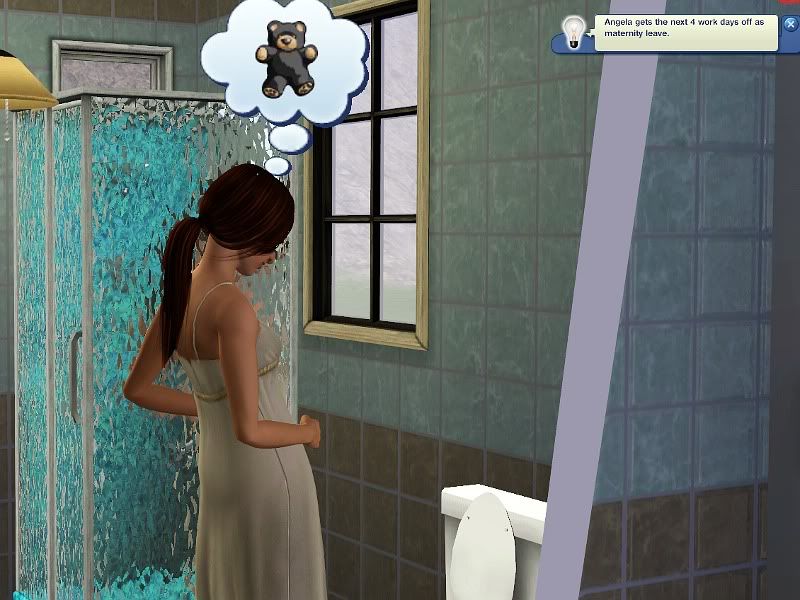 Ah, pregnant from the little pre-wedding tryst. How sweet.
Aaaaand that was the only picture I took of the next three days. OK.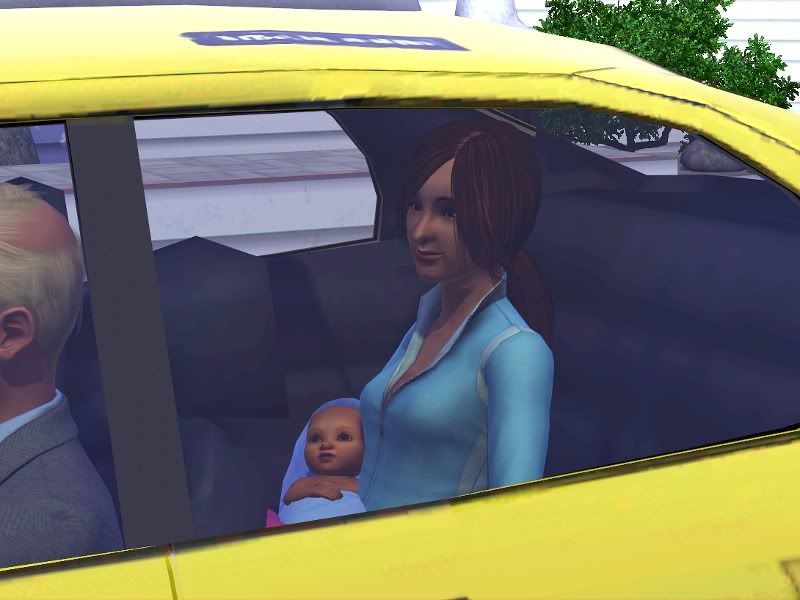 Mom and baby Ben. Angie had a wish for a girl, but she snuck apple pancakes before I could stop her.
So let's try again!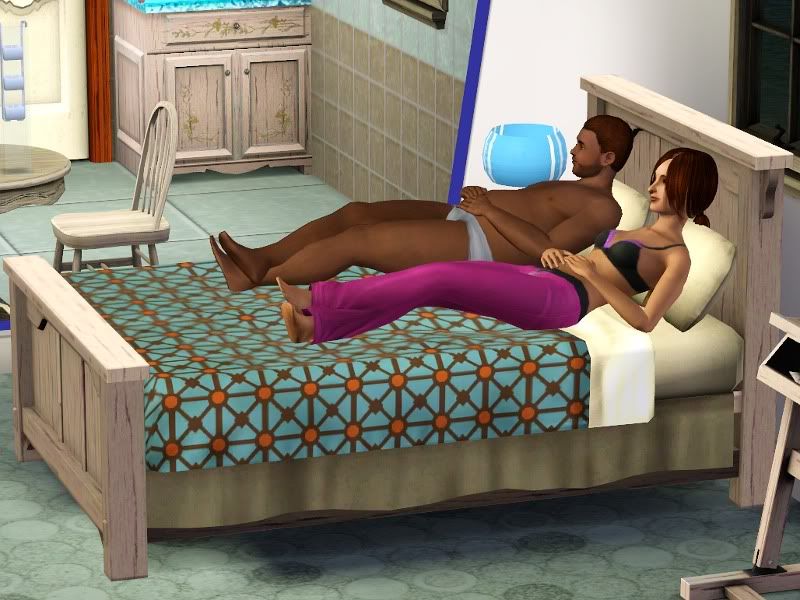 Angie: "Maybe we should buy you some sweatpants, honey?"
Neither is unlucky, but they've broken every appliance in the house at least twice. Angie keeps fixing them.
Angie: "They make me think of yetis!"
Sure, why not.
Beau's one great love is fishing. All of his wants revolve around it. Fortunately, they live on a lake.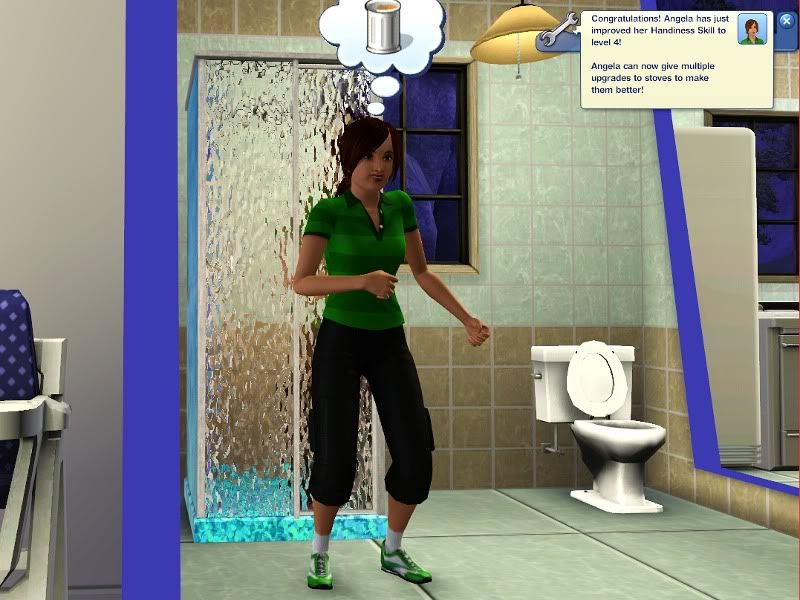 Someone broke the shower.
Angie: "It looks like garbage in here."
*POP*
Angie: "Aw, little garbage baby. Coochie coochie coo!"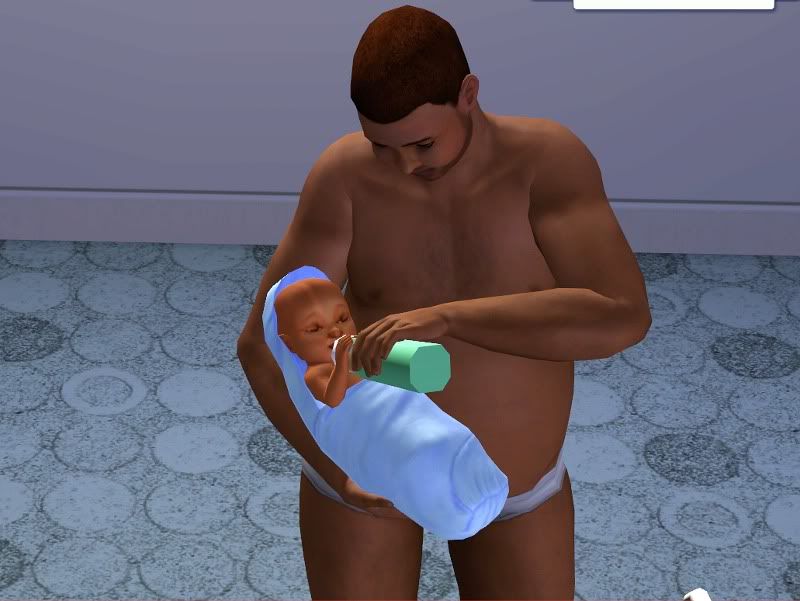 Meanwhile Ben still exists! And Beau is actually a surprisingly good dad. He hates changing diapers, but he's always autonomously feeding and playing with him.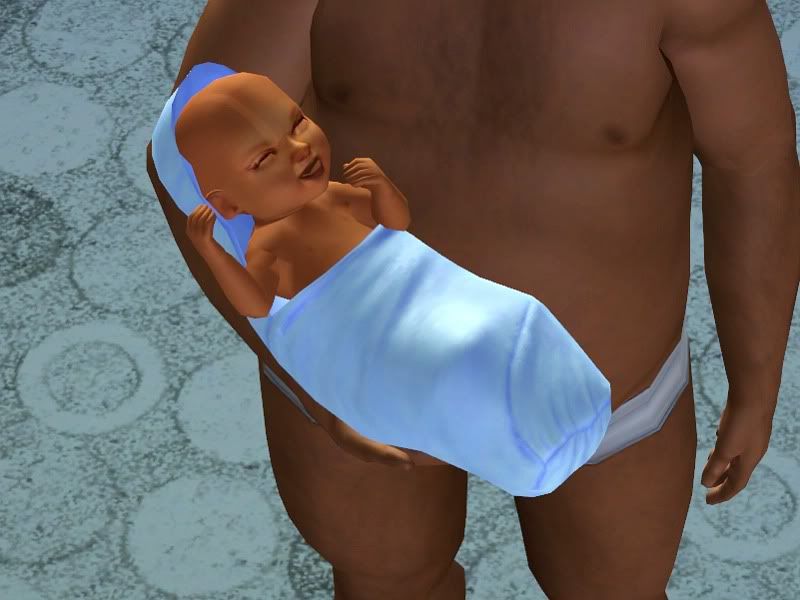 Cute baby! Also, why do my default skins have a crazy line down the left eye?
While Beau is playing with the baby, Angie has the cutest nightgown. Oh and she's still leveling up her guitar. But sheep!
And now, birthday time!
Poor Beau turning into an elder all alone in the living room.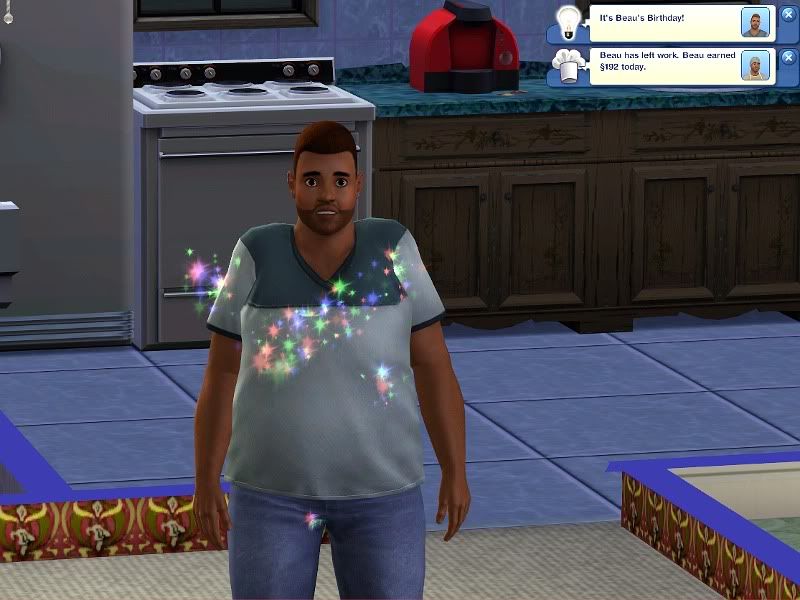 Shame for you it's aging up cliffhanger tiems! Yay!
Because this was so short and sad, 1.2 will be up later tonight or tomorrow. With birthdays, births, slutty santas, and maybe even some good pictures! Stay tuned.